Angela Hirbe, MD, Phd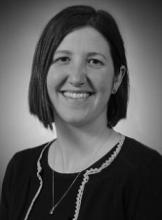 Dr. Angela Hirbe is currently a 4th year research and clinical fellow in the Division of Oncology at the Washington University School of Medicine. She is a graduate of the Washington University M.D. PhD. Program and completed her residency in Internal Medicine and fellowship in Oncology as part of the Physical Scientist Training Program. Her fellowship research has taken place in the laboratory of Dr. David Gutmann where she has used next-generation sequencing technologies to identify βIII -spectrin as a protein involved Malignant Peripheral Nerve Sheath Tumor (MPNST) pathogenesis and has developed a novel mouse model of this deadly cancer.
This summer, Dr. Hirbe will join the faculty at Washington University as Assistant Professor of Medicine treating patients with sarcoma. Her laboratory will continue to use genomics to identify drivers in MPNST pathogenesis and will utilize her mouse models for preclinical studies and therapeutic drug testing.