Thomas Bradley (Brad) Allen
…a GENIUS and a HERO all America needs to know!
By Tom Allen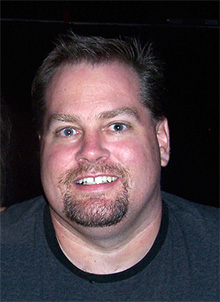 Brad was my son. He was 44 and shared a wonderful life with his beautiful wife and two lovely daughters. However, his life was cut short too quickly and way too soon. He died of Intimal Pulmonary Artery sarcoma cancer 3 weeks after diagnosis. He had mild symptoms for several months – thought to be an infection in his lungs and a blood clot in his pulmonary artery. He was treated with antibiotics and blood thinners. Following a seizure and subsequent MRI discovery of brain lesions, doctors were at a loss to diagnose the problem. After being in 3 different hospitals over a 2-month period, he finally was diagnosed at Cedars Sinai Medical Center in Los Angeles, CA, in early June – too late for any effective treatment. He died July 1, 2015.
Many families believe there are geniuses and heroes in their midst. But in this case, for our family, we feel this actually was true. Let me briefly explain.
Brad was introduced to computers when he was only 8, and he was immediately fascinated. This early exposure led to him becoming a computer geek – but a geek with a great sense of humor. He graduated from UNLV with a BS in Computer Information Systems. After graduation he joined a startup software company, SRD, which ultimately was acquired by IBM in January 2005. While at SRD Brad was instrumental in developing the software data base system that Homeland Security, the CIA, NSA and other government agencies now use to help capture BAD PEOPLE.
An IBM press release dated January 7, 2005, stated, "The seemingly simple questions of 'who is who?' and 'who knows whom?' cut across a wide variety of business problems today," said Janet Perna, general manager, IBM Information Management Software. "The SRD technology provides solutions to these age-old problems with unparalleled speed and accuracy." The press release further added that the software developed by SRD is "…enabling solutions that require the melding of information stored in a variety of databases and drawing out nonobvious relationships between entities.
So we, Brad's family, were convinced he was a GENIUS, along with other geniuses at SRD, they created an amazing system. He was also awarded numerous software technology patents.
And he was also a HERO. He was a hero to his wife, his daughters, and the rest of our family because we knew him as a dedicated and loving son, husband, father, brother and stand up guy with a sense of humor and a ready helping hand. We admired him for his many outstanding achievements, always carried out in an unassuming manner.
But Brad was more than a hero to just his family – he was a hero to everyone in the United States – even those who didn't know him. He, along with the special group with whom he worked, created the software that is helping catch evildoers like the Shoe Bomber, the Underwear Bomber and countless others. We will never know how many terrible events like 9/11 might have taken place in our country if it weren't for these heroes. Brad was so proud to be one of them, and we are – and will always be – so proud of him.
Not enough people leave the World having made it a better place. But Brad did. He made it a much, much BETTER and SAFER place, and we miss him dearly.
True to Brad's loving nature he asked his wife, Kara, before his passing, to help others who have Sarcoma cancer. His wish led us to SARC. Donations from his family, friends, and coworkers have generated nearly $20,000 for research. Please join us and help fulfill Brad's wish!