Darlene Anna Dorwart McGregor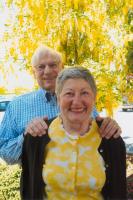 Darlene Anna Dorwart McGregor, beloved wife of Wallace for 55 years, passed away on January 8, 2011 after a three year battle with undifferentiated pleomorphic sarcoma. She is also survived by her daughter Shauna Menner, son-in-law Tom Menner, and granddaughters McKenna and Carley Menner.
Darlene was a lover of nature, demonstrated by her enjoyment of hiking and years of adventure with Wally exploring Alaska as well as her love of snowshoeing, cross country skiing and her fascination with identifying wild flowers and foraying for mushrooms. For years, the high point of the fall season for her was the annual Spokane Mushroom Club foray at Priest Lake, Idaho. She was creative as an artist and shared this in cards and artwork for her friends and family.
Her family fondly remembers,
"Darlene was an encouraging, caring and loving wife, mother and grandmother. She taught us all how to live life moment to moment, and not get caught up in the little things and that there is humor to be found in all we do. She was always eager to welcome a newcomer to the neighborhood and treated her friends like she did her family, with kindness and thoughtfulness. We will always remember her warm smile as well as her easy and genuine laughter."
Darlene's wishes were to have donations directed to sarcoma cancer research. The family has selected SARC as recipients of donations in memory of Darlene McGregor.