October 12, 2021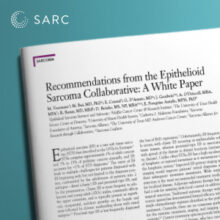 "Recommendations from the Epithelioid Sarcoma Collaborative: A White Paper" was recently published in the Journal of Oncology Navigation and Survivorship. The white paper publication is the result of a partnership between the Epithelioid Sarcoma Collaborative and SARC (Sarcoma Alliance for Research Through Collaboration).
Epithelioid sarcoma (ES) is an ultra-rare soft tissue sarcoma. According to the white paper, ES often strikes young adults in their prime. It is most frequent in adolescent and young adult males and has a peak age of incidence of 35 years. Because there is very little information available about ES, the Epithelioid Sarcoma Collaborative is working to help increase awareness and understanding of the disease, especially among general practitioners and other care providers who may be the first point of contact for people with the disease.
"Increasing awareness and understanding of soft tissue sarcoma among patients and providers may be the first step to decreasing the time to a correct diagnosis, reducing barriers to timely treatment and access to experienced sarcoma centers," says Maria Voermans, an ES survivor and advocate who is an author of the white paper.
Please read the white paper, available on JONS online.
We encourage you to share news about the Epithelioid Sarcoma Collaborative's white paper with others in the sarcoma community and on your social media channels.
Download the News Release