November 24, 2021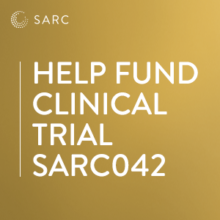 Together we give.
Giving Tuesday is on Tuesday, November 30. It is a designated day each year to encourage charitable giving to support those who need our help.
By donating, you can make a difference in accomplishing our goal to achieve breakthroughs in sarcoma research that help improve patient outcomes.
In 2020, there were an estimated 16,730 new cases of soft tissue and bone/joint cancers associated with 7,070 deaths in the USA. SARC (Sarcoma Alliance for Research Through Collaboration) is a US-based, non-profit (501(c)(3)) sarcoma research cooperative solely dedicated to fostering progress in the prevention and treatment of sarcoma to improve patient outcomes and ultimately find a cure.
Our goal for Giving Tuesday 2021 is to raise funds in support of our clinical trial SARC042, a phase II study of combined pembrolizumab and lenvatinib in advanced stage sarcoma for patients whose cancer cells have special characteristics making them more likely to be reduced or even eliminated by these drugs – the combination of two drugs may help a patient's own immune system attack the cancer cells while also reducing the ability of those cancer cells to "feed" from the patient's blood supply.
In addition to the funding already secured for this promising study, we must raise an additional $75,000. To open this trial to patients, SARC needs your support and funding partnerships.
Show up for sarcoma and the people you care about this #GivingTuesday. Share this opportunity to do good.